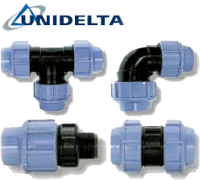 The company "UNIDELTA" was founded in 1973 with the aim of producing polyethylene pipes of high and low density and pipes made of "cross-linked" polyethylene with and without an oxygen barrier. Today, UNIDELTA is the industry leader and offers a wide range of products, including clamping connections made of polypropylene, electrically welded joints made of polypropylene, as well as a complete range of accessories for water and gas distribution systems.
HDPE compression fittings are used for installation, as well as for repairing pipelines made of polyethylene, which are intended for transferring drinking and technical water in irrigation systems. This element is used as a sealed cable duct. Compression fittings for polyethylene pipes make it possible to quickly and efficiently combine polyethylene pipes without using additional welding equipment.
These elements are used when necessary to sewage, create irrigation systems, or simply to conduct water in the house.
The compression fitting means pressing the crimping ring on the pipes, thereby making it possible to create a seal between the pipes to be mounted and their parts.
Specifications:
Diameters: 16 - 110 mm; thread up to 4 "
Operating pressure:
- With a diameter of 16 to 63 mm - PN16 (16 atmospheres)
- With a diameter of 75 to 110 mm - PN10 (10 atmospheres)
Materials:
The body and the clamping cover are a stabilized polypropylene copolymer (PPB), UV resistant.
Bushing for pressing - polypropylene stabilized (PPB) copolymer, UV resistant
Crimping ring - polyacetal resin (ROM)
Seal-NBR rubber is chemically resistant to weak solutions, safe when in contact with food.
 The areas of application of compression fittings Unidelta:
 * Pipelines from PE, PP, PVC
* Water supply
* Channels of connection
* Industrial application
The main advantages of compression fittings for polyethylene pipes:
ease and speed of installation work;
possibility of reusable application;
these fittings can not be affected by the environment and corrosion;
guarantee the reliability of fasteners and connections;
are made of environmentally friendly materials, which allows you to transport drinking water, does not require special or installation skills;
these elements are sufficiently durable, their service life is of the order of fifty years;
possibility of connection with pipes made of other different materials.
A wide range of compression fittings for polyethylene pipes, the price of which is very affordable in the company "Ukrpolimerkonstruktsiya", makes it possible to start a sealed pipeline of any geometric design quickly and without using a special welding or mounting tool.
Compression fitting components Unidelta: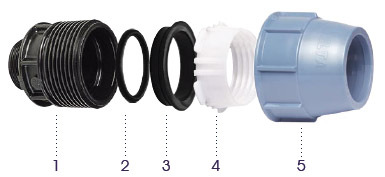 Body: polypropylene (PPB) with a high degree of stability and protection from UV radiation.
Seal: nitrile rubber (NBR).
Bushing: polypropylene (PP-B) with a high degree of stability and protection from UV radiation.
Fold ring (collet): acetal resin (ROM).
Clamping Clip: Polypropylene (PP-B).
Due to the use of an elastic ring for sealing, which is made of rubber and supported by a press-fit sleeve, the installation is tight. In the case of unforeseen unilateral axial stress and shock, as well as disturbances and water hammering in the pipes, self-unscrewing prevents the metal clamping ring, in the manufacture of which a metal having good fastening properties is used. With the possible bending of the pipes, a rubber sealing ring guarantees full sealing.
AREAS OF APPLICATION
Unidelta compression fittings are special products for connecting polyethylene pipes with outer diameter from 16mm to 110mm (125mm for clamping yokes). They are compatible with all low density polyethylene, HDPE, polyethylene 40, polyethylene 80, polyethylene 100 pipes and are implemented in accordance with the requirements of EN 12201, ISO 4427, ISO 14236, ISO 13460, DIN 8074. Normally, Unidelta fittings are used for the transport of drinking water and liquids under pressure up to 16 bar for various purposes. Due to the materials from which they are made, the adapters have a high resistance to various chemicals and are resistant to UV rays.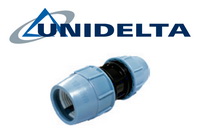 To clarify the prices, please contact our managers